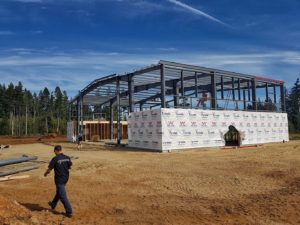 The sun is still shining so Summer's not over here in Campbell River!
School is in and it's the season of C's….We welcome Chrissy, Corey, Colin, Cyril and Colin to our student roster. We prepare to say congratulations to Gaetan as he finishes up his Commercial course with some longlining, practical mountain techniques and pad work.
And a big congratulations for Dick's first solo yesterday!
Our hangar construction is coming along nicely… roof, walls, doors…almost ready to move in!